Hi!
Did you know yesterday was National Hat Day? We didn't really either until it was too late and we didn't have a Hat designed for promotion! Ugh
Next year, we'll be ready :)
This happens often though in our small business, where we have our "normal" lives going on with full time jobs, family time, making meals, cleaning, etc  and we miss fun opportunities to design and make stuff in our shop.
We think to make more opportunities happen in 2019 we need to speed up the ideation and design process and get more methodical and calm in our approach.
To kick things off, we conducted market research in the form of a customer survey that we sent to our Mailing List, Instagram, Twitter, and Facebook followers.
Below are a summary of the responses (27) and a list of the Top 5 products people want us to develop and carry in our Shop.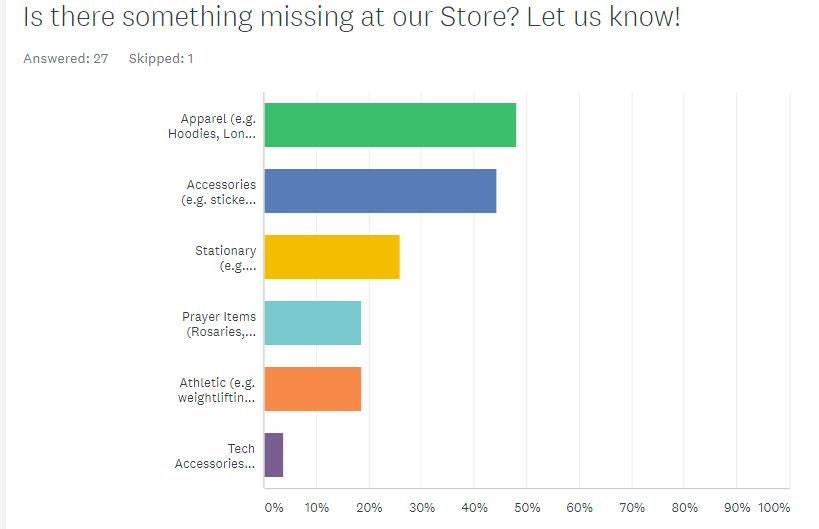 Here are the answer choices just like above, ranked in descending order:

In addition, we recieved over 30 open ended comments which were so enlightening and wonderful to read! I am humbled by everyone's willingness to help and provide straight up, powerful feedback. We get better because of it, so thank you!
Below are a summarized version of what most people were talking about in the comments:
Hoodies
Rosaries
Stickers
Hats
Bags/Totes
We are off to a great start in our new brand this year and look forward to providing you an amazing shopping experience and even better product offerings that help you wander with purpose!
~Joanna and Matt